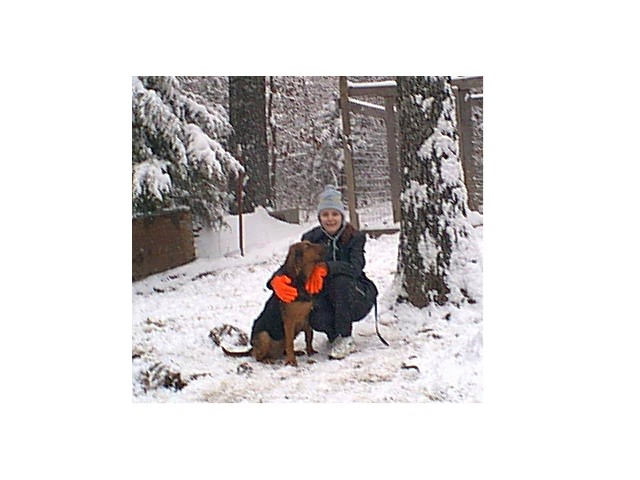 Page 2 Bath your Pet
This is page two of
How to Bath your Pet
Like a professional Groomer.
Instructions Continued from pg 1 (link below)
As you wash, give your pet a nice gentle massage, pet and massage firmly but gently all over, so they enjoy it.
Hold your pet in place with one hand firmly but gently on its shoulder ready to hold the collar if need be and massage with your other hand.
Put Shampoo or the warm water on in between massaging,they'll learn quickly that the massage feels good and thenwill stand still enjoying the bath.
No more dog or cat trying to escape out of the tub!!
They are so relaxed you'll sometimes have to wake them up.
As you rinse with warm water, massage and they'll love it even more.
Do not wash the head with the hose, use a wash rag with water from the hose to wipe around the face and eyes until the pet isvery use to being handled in water.
Rinse very well so that the shampoo doesn't make your pet itch, make sure to get his under-legs, rear-end, under-tail, and neck.
---
Go to Page 1
---
---
Towel dry pet well all over.
You can crate dry If its cold outside and you have a crateor animal carrier for them.
Your own hair dryer can be hung on the cage door so warm air circulates and your pet drys faster BUT make sure not to leave the pet alone
With the warm air on the cage for longer then 10 minutes without checking to see if the pet is panting or overheating.
Do not aim the dryer heat towards the Pet, near the door is fine.
Many animals die in grooming shops ever year because they areleft to long in a crate with warm air blowing in so be careful when you use this method.
It can come in handy in very cold weather with a very dirty dog.
Remember to clean the ears and remove the cotton balls.
Enjoy!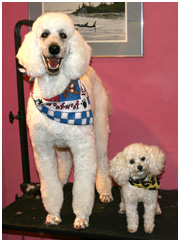 ---
---
Tips & Warnings
If your pet comes home from the grooming parlor itching then rest assured it isn't fleas but left on shampoothat wasn't rinsed well enough.
I have had dogs suds up months later when water is applied.
Never leave a Pet alone in the tub.
Do Not Bath puppies or kittens under 7 weeks old unless an emergency.
Do Not get Shampoo in the eyes.
Share your Pet's Experience at the Groomers Below !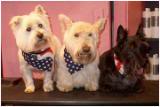 Visit the Book Page
---
Learn more about Dogs Below !
---
Custom Search

Have A Great Story About This Topic?
Do you have a great story about this? Share it!