Dog Author Pg. 2
Dog Stories Bio and Link below
Continued from Pg 1
About Amber Higgins
Expert K9 Trainer-Writer
Master Groomer and Champion Breeder
Professional Qualfications
1989 Rea Valley, Arkansas
Made the big move to Arkansas and green living
with 15 Pit Bulls, husband of 10 yrs and
3 children who were then home-schooled.
The U-haul truck was barking
travelling down the highway.
The Pit Bulls retired to grow old
out in the country.
German Shepherds
"Shotgun" and "Nikki"
were our farm dogs who later
produced great grand daughter
"Akelia Brunswick of Warrior Creek Mountain"
Who Certified at Baxter County K9 Seminar
in Tracking and K9 Tactics at 9 months old
1996-2006
Bloodhounds in the Ozark Mountains of Arkansas
Redi K9 Services
Wrinkledpups Search and Rescue Bloodhounds.
Top Awards to Rea Valley's Incredible Sue
owner handled by Amber Higgins
Top Awards to "Blue Ridge Homer"
Retrained and recertified to
Search and Rescue work at 7 years old
"Homer" holds a record of 27 finds in Baxter county Arkansas with Lt Ezra Roberts.
Homer went on a number of searches with us
and retired at 12 years old.
(This Page is dedicated to them)
Amber owned Redi-K9 Services
Specializing in Bloodhounds and German Shepherds.
Active volunteer with
Marion County Emergency Response 911
Certified firefighter 1,2,3 and Wildfire.
Certified Expert K9 Search Handler/Instructor
Baxter County K9 Tactic Seminar
Officer and Founder of local Search K9 Unit
County Rescue Squad member,K9 team leader/instructor
Trained other people with dogs in SAR
Certifications in
Advanced CPR/Rescue Medical Response
Wilderness Survival and Rescue,Cave & Water Rescue
Urban and Rural Search, Swift Water Rescue
Specializing in K9 Tactics
Distinguished Expert level
"Mantrailing/Tracking, Air Scenting"
Amber met with people concerning pets quite oftenduring the week, held fund raisers, promoted Search dogs,wrote standard operating guidelines, did paperwork.
She raised and specialized in Bloodhounds.
Wrinkledpups Bloodhound bloodlines are volunteering in many areas of the USA assisting in the search for missing people with Fire and Police Departments, and volunteers.
Amber retired from Search and Rescue volunteeringafter catching Lyme Disease twice.
---
Amber's Book of Dog Advice
---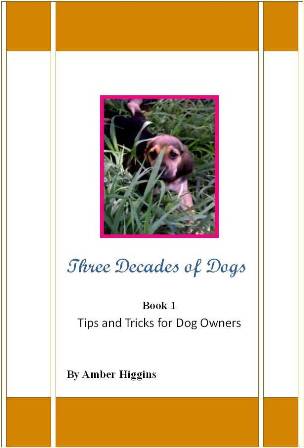 ---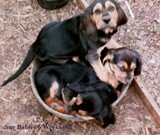 Click to go to Page 1 of Dog Author's article!

Click to Meet the Author, Amber Higgins !
---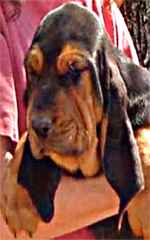 ---
Grooming in Mountain Home, Arkansas 1999-2000, 2001-2002 and 2004-2005
Amber worked at Debra's Pet Salon & Resort, all breed grooming at a high volume, high end shop with 2 to 3 groomers doing all breeds and styles. Amber had worked for the first owner twice before and with the new owner 2004-Feb 2005. She enjoyed working here when she was not busy at her home kennel.
Amber worked as a Groomer in Harrison Ark, at Bracken Animal Clinic. Dr. Bracken loved her way with animals, as did, Dr Helvey, another vet she worked for as a groomer.
Moved to Corvallis,Oregon June 2005- Nov 2005
Corvallis Kennels inc. All breed groomer at boarding kennel and home of retired Giant Schnauzer breeder, judge, Westminster winner.
Dec 2005-Nov 2006 Cottage Grove, Oregon
Opened Avion's Pet Spa, which did pretty well 600 clients in a year, considering it was a small town with a established grooming shop. The economy had started to slip and the operating capital to carry Avion's as it grew disappeared. In an attempt to save the business the spa was sold to a groomer from Eugene, Oregon.
March 2007- Nov 2007
Amber returned to California to help set up Sausalito Pet Hotel Spa on the beautiful San Francisco bay. After a wonderful year of living in beautiful Sausalito setting up the Pet Spa for the new owners, Amber could think of no better place to end her long and extraordinary career with man's best friend then on the bay under the Golden Gate Bridge.
With a toast of wine to dogs and cats everywhere! Amber and her daughter, who has accompanied her along the way celebrated on a beautiful yacht with a very good friend who had trained the animals for the original Doctor Doolittle Movie!
Roger and Anastasia, Thank you for such great times!
What a grand way to end 3 decades with the pups!
Custom Search
---