Dog Trainer-Master Groomer
Author, Herbalist,
Professional Dog Handler, Master Groomer,
Expert Trainer, Champion AKC Breeder
Owner and Editor of Alternative-Ave.com
As you'll see, Amber's professional experience
contributes to her interest
in Alternative Medicine and healing with herbs.
Author's History
Amber Higgins was raised in the S.F. bay area and her love of animals led to spending most of her life caring for pets professionally.
For over thirty years, she offered pet services in different areas of the country.
This has given her a wide variety of knowledge about different methods of dog handling, grooming, training, animal care and emergency response skills.
Professional Beginning
Honolulu Hawaii,1976-1979 (age 17-20)
Amber's passion for animals led to Alii Kennels,inc.
A large top winning show/breeding/broading kennel
100 Champion AKC Show Poodles, Lasha Alpso, Italian Greyhounds and German Shepherds.
The kennel operated two Honolulu high volume grooming salons and offered boarding, obedience classes and pups.
Amber was trained by one of the owners in kennel management of 50 to 100 animals.
Along with breeding, whelping, and raising champion AKC puppies and preparing for show by daily grooming to maintained 10 -15 active show animals, mostly poodles.
Amber was also was taught and assisted with obedience classes to public, and eventually conformation handling and training, plus she handled in the show ring and managed kennel when the owners were away.
Thanks to Louis at Alli Kennels for such a great start!
San Francisco Bay Area, 1979-1981 at age 20,
Amber returned to the SF bay area,and worked for about 9 months at Broadway Vet Clinic as Vet assistant to 4 veterinarians.
She handled vaccinations, exams, x-ray, dental, and whelping. She was in care of care of the pets in the infectious diseased pet kennel unit which was the highly quarantined area of the hospital.
Amber has always shown a deep interested in health.
1981 Dallas Texas:
Amber worked at Junes Grooming Salons. June was trained in Burbank, Ca grooming school.
June had very high standards and 2 high volume salons with 2 to 5 groomers. Amber was taught most of her pet styles here.
Amber devoted more of her time to operating T.A.'s Kennels, which was home based.
T.A.'s American Pit Bull Terriers were bred and raised for 5 generations over 10 years by Amber Higgins.
Foundation Bloodlines included direct grandson of
Plumber's Alligator, and line bred Colby-Heinzel
American Pit Bull Terriers plus Hammonds and Sorrel bloodlines.
Secretary Southwest Pit Bull Assocation Dallas Tx 1984
Awards included Top Weight Pulling APBA
by "T.A.'s Warlock"
Best in Show
by "T.A.'s Sally" and "T.A.'s Snatch"
Puppy class winners
Stories about T.A.'s will eventually be posted by Amber for your enjoyment.
Amber was one of two trainers licensed to train dogs in Dallas City Parks.
Amber groomed and cared for the founding president of the Papillion Club of America.
Retired show breeder/judge, Irvine Cromwell, who was in her 80's at the time and lived with 75 adult Champion Papillons and 1 Champion King Charles Spaniel.
Irvine Cromwell was a remarkable woman who owned the first two Papillion to be imported to this country about 70-80 yrs ago. Irvine remained very active in the breed all of her life.
______________________________________________
Click the link below to continue reading more about the author's 30 years with animals and Wrinkledpups Bloodhounds!
______________________________________________
Special Thanks to Tom Higgins
for putting up with 30 Pit Bulls!
Special Thanks to all who supported Amber's journey!
______________________________________________
Ruby and Gucci featured in Photo
Photo copyright Amber Higgins 2007
Amber's Tips and Tricks for Dog Owners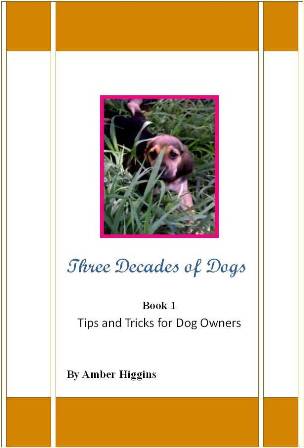 Click below to read more about 30 years with Dogs!!
Click for Part 2 of 30 years with Dogs article !!
Click below to meet the author and learn more about dogs!
Meet the Author !! Click to learn more !
Ask a Free Dog Question Here !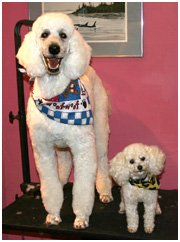 ---
Click to Motivate your Dogs !
---
Read Amber's Herbal Articles
Click for Cold Remedy Tea Recipe !
---
Learn a Snake Remedy
Pet to Hot or Cold ? Read more below...
Click for pet care in extreme weather
Read more of Amber's Articles
Click for more Articles by Amber
Read about Rose HIp Tea
---
Click to read more Herbal Articles !
---
Learn to Potty Train Here!
Click to Potty Train a puppy !
Custom Search